January 21, 2012
In Games
No comments yet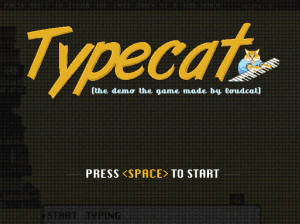 Welcome to the super developmental build version of "Typecat" the game that teaches you ridiculous typing while you type the ridiculous things cats say! This game was a result of the Difference Engine Initiative. A full version of the game is already being worked on but for now enjoy this proof of concept. This game was developed in c++ using the Orx Framework.
To Install (pc only for now):
1. Download the full dev build.
2. Navigate through the folders to /bin
3. Double click on softkity_d.exe
How Play:
Internet cats will come across the screen towards the stack of dictionaries. You must prevent them from getting into the pages and ruining our beautiful language. Send their feline behinds back to the bowels of the intermanets by typing the lolspeak words you see attached to them. If it's too much and you panic, press <space> to clear all the cats on the screen. There's a bug that sometimes gets the typing area stuck. Use <space> to unblock it.
Note:
You might get an error saying some dll's are missing. It's nothing tragic. Just do a fancy google search for the missing dll name and drag the .dll into the /bin folder.
To receive updates:
Follow me on Twitter. I'll tweet out when I make updates. Or come back here every once in a while.